David Stern and Shake-N-Bake!
Former NBA Commissioner David Stern wishes Frank Shake-N-Bake Streety a Happy Birthday at the 51st Annual Frederick Douglass Awards for New York Urban League Gala at Pier 60.
Carl Green and Charles Hoxey Win an Emmy Award for the film "The Game Changers…How the Harlem Globetrotters Battled Racism"

Some of the younger Globetrotters had the honor to meet legends Carl Green and Charles Hoxie at the 50th Anniversary of Rucker Park
Pictured - Legends Dave Nash, Bobby Hunter, Carl Green and Dave Naves
Former Harlem Globetrotter Choo Smith Gives Back to Baltimore!
The pro talks about the importance of sports - and remembers meeting Carmelo Anthony.
Charles "Choo" Smith, Jr.—the former Harlem Globetrotter who, like Carmelo Anthony, hails from Baltimore, Maryland—is the embodiment of the phrase "there's no I in team." Or, even, "there's no I in life." After a career that caused him to, well, trot the globe, he's returned to his roots. And his passion? Bettering the community through efforts like Choo Smith Youth Empowerment and Visit Baltimore (which hosted its third annual expo at the Reginald F. Lewis Museum of African American History and Culture on September 12).
Choo was born to Charles and Brenda Smith on November 30, 1970, in Sandtown-Winchester, the neighborhood in West Baltimore where Freddie Gray was arrested. "I was growing up in that environment in the early '80s and mid '80s and there was a lot of violence," explains Choo. "Everyone looks at the show The Wire, and that's how everybody stereotypes Baltimore. There was a lot of crime and a lot of violence, but my parents stressed the importance of education and sports." His father was committed to teaching the value of athletics—baseball, basketball, boxing, football—which he believed would train his son to understand how to win and lose, and how to follow rules (like the law).
Choo graduated from City College High School to experience a series of ups and downs: failing from college and witnessing the murders of three friends. "I started working at this company called Rent-A-Center and I was driving a van and, boy, I think about this all the time," shares Choo. "A little girl ran across the street and I hit her and she died in the E.R. and, at that point, I was ready. You could lock me up and throw away the key. It was an accident but it felt like it was haunting me for the rest of my life." He used the experience as motivation—an impetus that spurred him to return to college and, ultimately, devote his efforts to the children of Baltimore.
His success with basketball (which was encouraged by his coach, Will Jones) segued into a career as a professional player who grabbed the attention of the Harlem Globetrotters. "I wanted to play ball, be my own boss, be an entrepreneur," enthuses Choo. "And the rest is history."
Or, it was history until he retired in 2005 and established Choo Smith Youth Empowerment, a non-profit organization that nurtures the "4L" philosophy: Love It, Learn It, Live It, Lead It. "When I retired, I said I wanted to start off by having 40 kids for a basketball camp," explains Choo. "People loved it and loved the program, because it was more than just basketball skills—it was life skills. We were teaching things like financial literacy and how to hold a door open and table manners. I just want to put my heart on the table to let people know that there's nothing pretentious and it's all about building and edifying people, and that's what the brand is."
In addition to Choo Smith Youth Empowerment, Choo is also committed to Visit Baltimore—in fact, he's one of the faces of the campaign. Since 2010, Visit Baltimore has been marketing the city as a destination for reunions, driving revenue through tourism. Choo is, indeed, committed to the betterment of Baltimore with an approach that's holistic. And it's thanks, in part, to basketball.
It was because of basketball that he remembers meeting Carmelo Anthony at the Sinai Wellbridge center: "I see this kid and I'm like, 'Wow! He's balanced, he's playing hard, he's doing well.' So, after he finished, we were at the water fountain and he said, 'Choo, man, I've heard a lot about you. How do you like the Globetrotters?' And I go, 'It's nice, man, it has its perks. You get to travel the world. Are you a senior in college? You've got a chance to go to the pros!' And he goes, 'Choo! You don't know who i am? I'm Carmelo Anthony and I'm only 16 years old.' It's so funny because, over the years when i see him in Baltimore and beyond, I think about that moment and seeing him do so well I'm just proud of him." And that's Choo. He's proud of the children from Baltimore who go on to be great.
NBRPA Annual Summer Conference in Las Vegas at the Mandalay Bay Resort & Casino
The annual NBRPA summer meeting in Las Vegas Nevada (July 17th - 19th) was a great success!  

One of the highlights of the annual summer get together was the premiere of the documentary, Full Court: The Spencer Haywood Story. Bobby Hunter gives his review below.
The Late Great Meadowlark Lemon Honored at NBRPA Summer Conference!
Meadowlark Lemon, the "clown prince" of the Harlem Globetrotters, life was celebrated at the NBRPA Summer Conference.
Growing up poor in Wilmington, North Carolina, Meadowlark didn't have money for a basketball so he rigged up a makeshift hoop with a coat hanger and onion sack for the basket. He made his first shot with an empty Carnation milk can. 
Lemon played for the Globetrotters from 1955 to 1980, traveling nearly 4 million miles to play in over 100 countries and in front of popes and presidents, kings and queens.
"Meadowlark was the most sensational, awesome, incredible basketball player I've ever seen," NBA great and former Globetrotter Wilt Chamberlain said shortly before his death in 1999. "People would say it would be Dr. J or even (Michael) Jordan. For me it would be Meadowlark Lemon." 
Reflecting on his life, Meadowlark said, "I was one of the most fortunate athletes that ever lived, I was able to watch history."
Wali Jones Named NBRPA Player of the Year at NBRPA Summer Conference!
Philadelphia 76er legend Wali Jones was named 2016 NBRPA Player of the Year. Wali is the founder and director of the National Shoot for the Stars program. He conducts basketball clinics for underprivileged youth around the U.S. and throughout the Caribbean. In addition to basketball, Wali teaches  kids the importance of setting goals, getting along with others and reading. Congratulations Wali! 

Charles "Choo" Smith Named Globetrotter of the Year at NBRPA Summer Conference!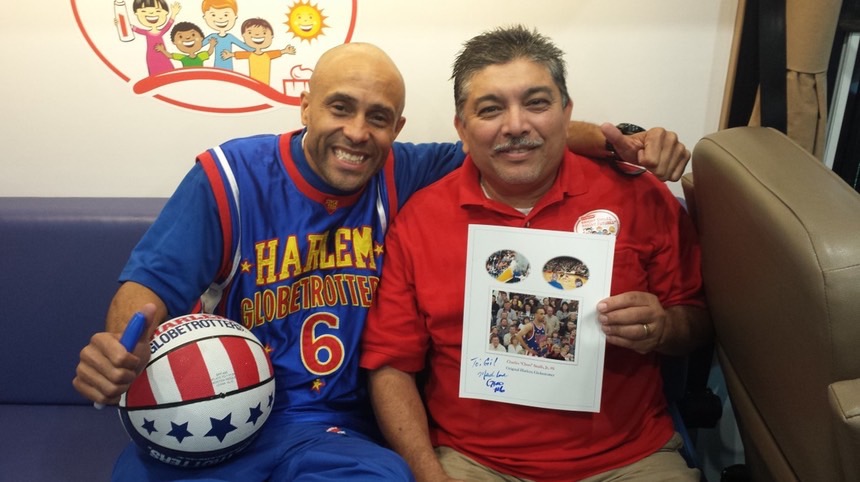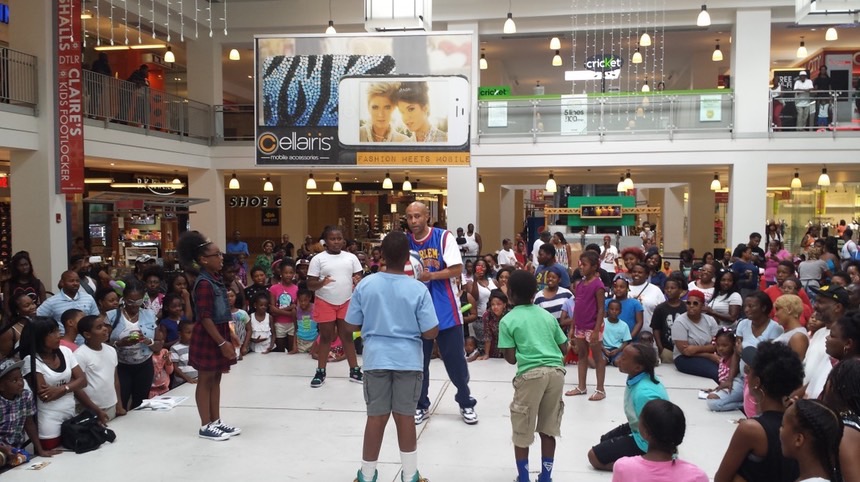 Globetrotter legend Charles "Choo" Smith was named 2016 Globetrotter of the Year. Choo" is the founder and director of Choo Smith Youth Empowerment, a non-profit organization that nurtures the "4L" philosophy: Love It, Learn It, Live It, Lead It. "When I retired, I said I wanted to start off by having 40 kids for a basketball camp," explains Choo. "People loved it and loved the program, because it was more than just basketball skills—it was life skills. We were teaching things like financial literacy and how to hold a door open and table manners. I just want to put my heart on the table to let people know that there's nothing pretentious and it's all about building and edifying people, and that's what the brand is. Congratulations Choo!
Globetrotter Legend Bobby Hunter to Honor 20 Students for Academic Excellence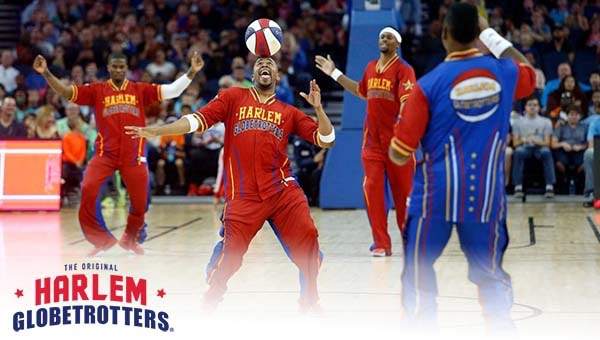 On Sunday, February 26th, former Harlem Globetrotter Legend Bobby "Zorro" Hunter will be taking twenty students who have at least a 4.0 GPA to the Harlem Globetrotter game in Miami, Florida. 
"We have some great students out there and I just wanted to recognize their outstanding accomplishments."   Bobby Hunter
Legends Conduct School Assembly and Basketball Clinic at Sandy Hook in Newtown, Connecticut
From Left to Right
NBA Legends Nate "Tiny" Archibald, Sam Worthy, Tom Hoover and Harlem Globetrotter Legend Bobby Hunter
From Left to Right
NBRPA President Arnie Fielkow, PE Teacher Jackie Lloyd and Harlem Globetrotter Legend Bobby Hunter
Former Harlem Globetrotter Charles "Choo" Smith, Jr. Takes Trotting the Globe to a New Level by Streaking Across Baltimore with the Blue Angels
By Karyn Bullock 
October 20, 2016
Former Harlem Globetrotter Charles "Choo" Smith, Jr is no stranger to traveling all over the world in aircrafts but on Friday October 14, 2016 he experienced the friendly skies courtesy of the Blue Angels. The Blue Angels were formed in 1946 making them the second oldest formal flying aerobatic team in the world. The Blue Angels 6 demonstration pilots fly McDonnell Douglas F/A-18 Hornet.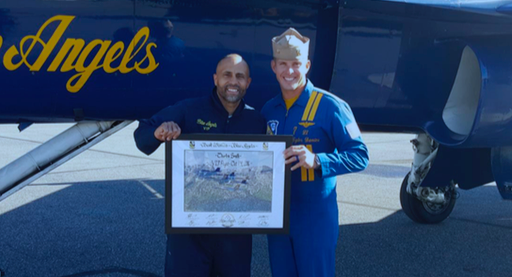 Choo has spent the last 12 years working with the youth and serving the community. As one of the faces of the Visit Baltimore campaign Choo was nominated as a "Key Influencer" for the work he does in Baltimore with the youth. The Blue Angels reviewed all of the submissions and has recognized Choo Smith as a "Key Influencer."
As one of the 3 Key Influencers Choo received the opportunity of a lifetime. Choo took a 40- minute flight with Lt. Tyler Davies of the Blue Angles. An experience that many people would love to have had.
Prior to entering the aircraft Choo received flight training on how to handle all of the "G" forces he will experience by Seven Crew Chief Josh Wilburn. Choo Along with WBAL News Reporter Omar Jimenez, and Luke Rettig with College Bound Foundation received a crash course on how not to black out.
Choo's flight took place on Friday October 14, 2016 at Martins State Airport during Fleet Week. Choo stated in a comment prior to taking off "This is serious!! You got to be in shape to do this." Lt. Tyler Davies took Choo on a 40-minute full of speed, loops, turns and acrobatics. An experience Choo said he will never forget. Choo said "I always respected military pilots... but today I have a whole new appreciation for the shape they have to be in to be a Blue Angel."       
NBA All Star Weekend in New Orleans
A Special Thank You to Adam Silver and the NBA for An Incredible Event - First Class Act All The Way!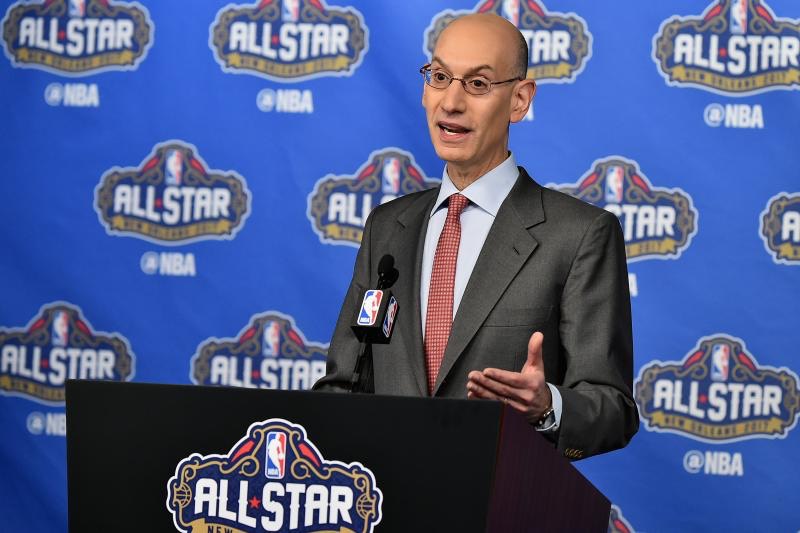 Click here for photos from All Star Weekend
Globetrotter Legends Bobby Hunter, Choo Smith and Dave Naves at the 2017 All Star Weekend

Globetrotter Legend Bobby Hunter, Abra Berkely (Abe Saperstein's Granddaughter) & Eli (Abe Saperstein's Great Grandson) at the 2017 All Star Weekend
Interview with NBA Legend Oscar Robertson - "The Big O"
Globetrotter Legend Bobby Hunter Interviews Globetrotter President Howard Smith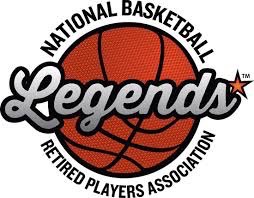 Congratulations to Hubert Ausbie!
On behalf of the National Basketball Retired Players Association and its former Harlem Globetrotter members, we wish to congratulate Hubert Ausbie on the retiring of his jersey.
Hubert dazzled fans with his incredible play as a Globetrotter for 24 years and carries the distinct honor of taking the place as the "Clown Prince of Basketball" after the retirement of the late, great Meadowlark Lemon.
Hubert gracefully used his platform as a Globetrotter to continuously give back to communities, churches and youth programs and has made a profound impact on many people's lives.
We thank Hubert for his amazing contributions to the game and congratulate him on a well -deserved honor.
Two Globetrotter Legends - Sam Sawyer and Hubert Ausbie

Global Trade and Technology Center (GTTC) to Help Promote Retired Globetrotters with Basketball Clinics in China 
The  Global Trade and Technology Center (GTTC) has promised to promote retired Globetrotter basketball clinics in China and global food and health programs. GTTC is a non profit organization dedicated to promoting the export of American smaall and medium sized companies' goods and services, technologies, educating businesses and training individuals for careers in the marketplace and encouraging cultural exchange between developing countries of the world and minority communities.
                Remade in China - Stephon Marbury Postage Stamps
Globetrotter Legend Dave Naves Visits the New African American Museum in Washington, DC
Globetrotter Legend Bobby Hunter Celebrates Black History Month
With Great Sadness, the Ex Globetrotters Announce the Passing of Sam Sawyer
Long time Washington General and Harlem Globetrotter, Sam Sawyer passed away October 22nd. 
Samuel was born on August 12th, 1939 in Atlantic City, New Jersey, to the late Evelyn A. Sawyer and William White. He is preceded in death by his Parents, his Sister: Joan Graham, his Brother: Wadud Ghafur (Robert Bullock) and his Nephew: Daniel Lucas. 
Growing up, Samuel discovered his love for the sport of Basketball, playing in "The Yard" at the old Pennsylvania Avenue School. He played for Atlantic City High School from 1957-58. During that time, his team was unstoppable and broke various Atlantic City High School records. 
A natural talent, in 1964 he was approached by Louis "Red" Klotz, the owner of the Washington Generals, and was specially invited to play for his team. Sam traveled the world playing basketball, and had the honor of being one of the few players that played for both the Harlem Globetrotters and the Washington Generals.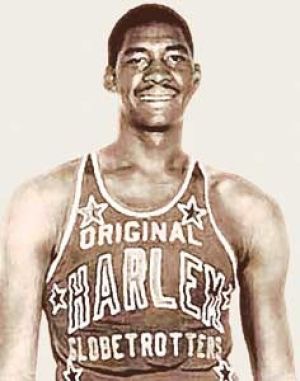 Sam Sawyer (left) and Meadowlark Lemon
After Basketball, Sam took great pleasure working as a Dealer at the Foxwood's Resort and Casino in Connecticut. 
Samuel leaves to cherish his fond and amazing memories: two loving Sons, Kevin Sawyer (Andrea) of Atlantic City, NJ and Keith Sawyer of Willimantic, CT; two loving Daughters, Shawn F. Phillips (Ronald) of Mays Landing, NJ and Karen Sawyer of Atlantic City, NJ; eight beautiful Grandchildren, five wonderful Great-Grandchildren, one special Godson, Warren Davis, Jr. (Terri) of Mansfield, TX; one adoring Sister, Margaret Phifer of Baltimore, MD and a host of other loving relatives and many, many fine friends.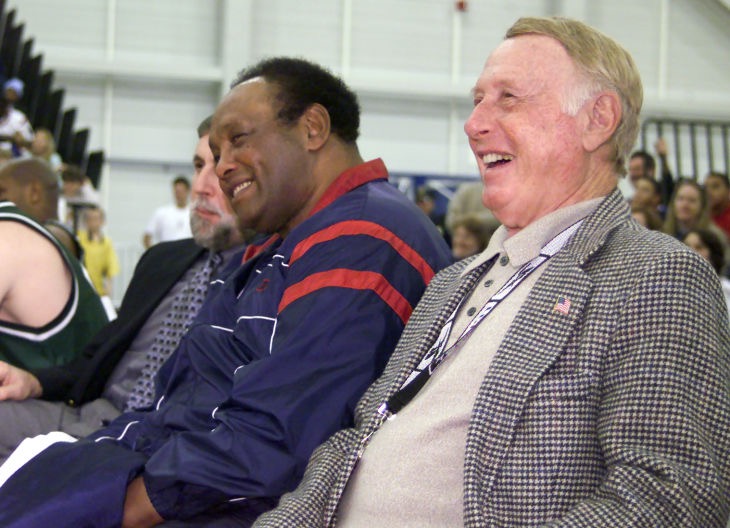 Sam Sawyer (left) and Louis "Red" Klotz, the owner of the Washington Generals

(From left to right) Sam Sawyer, Red Klotz, Gene Hudgins and Bobby Hunter
                              Bobby Hunter Interviews Sam
He will truly be missed by all who knew him. Samuel's service of Memory and Love will be held on Friday ~ October 27th, 2017 at 12:00 Noon, at St. James AME Church of Atlantic City located at 101 North New York Avenue Atlantic City, NJ 08401. Friends are warmly invited to visit from 11:00am 12:00pm. In lieu of flowers, the family suggests memorial contributions be sent to either the Hostess Club or Stewardess Board of St. James AME Church, in honor of Mr. Samuel Sawyer. For further info, please call Mikal's Funeral Parlor, LLC (609-344-1131).
With Great Sadness, the Ex Globetrotters Announce the Passing of Connie Hawkins
On July 17th 1942, Connie Hawkins was born in Brooklyn, New York. He made All-City first team starring on the 1959 and 1960 Boys High School undefeated championship teams. 
In 1960, desiring a change in scenery, Connie signed with University of Iowa. During his freshman year, Connie was a victim of the hysteria surrounding a point-shaving scandal. 
During the 1960-61 season, he borrowed $250 for school expenses from Jack Molinas, who had alleged ties to the New York underworld.
Molinas, an old friend from Brooklyn, vowed the gift had nothing to do with basketball and even said Mr. Hawkins' brother, Fred, paid him back promptly.
Despite the fact that Hawkins could not have been involved in point-shaving (he did not play - at that time, NCAA rules prohibited freshmen from varsity competition) Connie was expelled from Iowa. He was blackballed from the college ranks and the NBA.
No wrongdoing was ever proven against Connie Hawkins, but he was young, black and vulnerable. "It was totally devastating," Hawkins said in a 2009 interview with NBA.com. "I was innocent, but no one would listen to me. Plus, coming from a poor family, no one even thought about trying to get a lawyer to fight it. We just weren't that sophisticated."

With the major professional basketball league having blackballed him, Hawkins played one season for the Pittsburgh Rens of the American Basketball League and was named the league's Most Valuable Player. When that league folded, Hawkins spent four years playing with the Harlem Globetrotters.
Hawkins joined the Pittsburgh Pipers in the inaugural 1967–68 season of the American Basketball Association, leading the team to a 54–24 regular-season record and the 1968 ABA Championship.
Connie took legal action against the NBA and, finally, was awarded a $1.6 million settlement in 1969. His rights were assigned to expansion Phoenix, but only after having missed many prime seasons., he became a 27-year-old NBA "rookie" in 1969, having already undergone major knee surgery.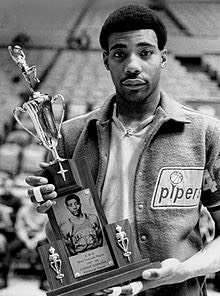 Debuting with the Phoenix Suns in 1969-70, Connie averaged 22 points, nine rebounds and four assists. In seven NBA seasons, he averaged 17 points, 8 rebounds and four assists, and was a four-time All-Star.
Hawkins was a 6-foot-8 forward with enormous hands that enabled him to grip the ball like a grapefruit.

His nickname, "The Hawk," was as much about his soaring, swooping dunks as for a play on his name.
Fellow Hall of Famer Larry Brown, who coached Connie in the old ABA, put it like this:
"He was Elgin before Elgin, Julius before Julius, Michael before Michael. He was simply the greatest individual player I've ever seen."
In 1992, Connie Hawkins was inducted into the Naismith Basketball Hall of Fame. He took a long and winding road but somehow he made it.
Connie Hawkins (right), seen here with the 1992 Hall of Fame class with Bob Lanier, Dr. Jack Ramsay and Lou Carnesecca
The extraordinarily talented Hawkins died Friday, Oct. 6, 2017, at his home in Phoenix at age 75. He will be greatly missed!!!
Bobby Hunter Reminisces About the Legendary Connie Hawkins
If you're from New York you can't say Connie Hawkins without saying Roger Brown. 
When I was in the 10th grade, I asked Freddie Crawford how did you make all city. He said guys who made all city have to vote for you. 
He said he would not vote for me because Connie Hawkins and Roger Brown are better than me.
This motivated me to work my tail off to try to be as good as Connie Hawkins and Roger Brown. After 3 years, I finally found out what was going on. Connie Hawkins was at the All American game on a slippery floor in New Jersey. Connie came late because he was at his high school graduation. Wilson from Chicago, Gates from Cincinnati, John Thompson from Washington were among the star athletes. They were the top All Americans in the country. Everyone was slipping on the floor except for Connie. You can see he was a cut above the rest. He looked like Elgin Baylor imitating Wilt Chamberlain. His long arms and ability to handle the ball was amazing. Add being trained by the "Czar" Eddie Simmons and Jumping Jackie Jackson and you had one unstoppable player!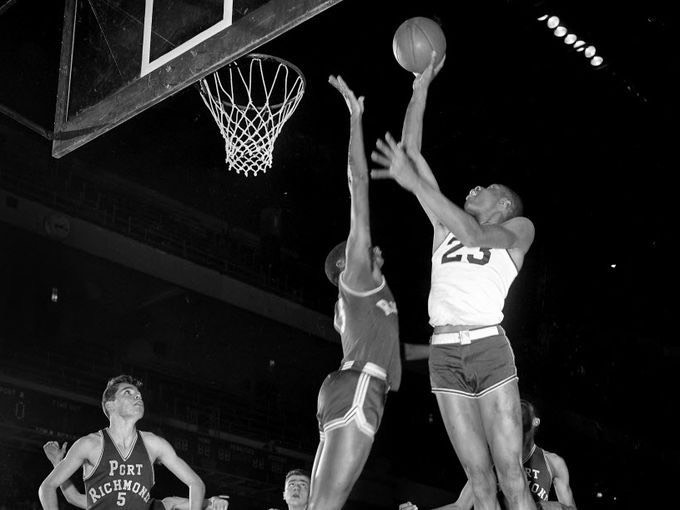 With Great Sadness, the Ex Globetrotters Announce the Passing of Charlie Hoxie

Charlie Hoxie, one of the few remaining historic 1950's Harlem Globetrotters, passed away this week. 
Charlie attended Benjamin Frankin High School and Niagara University both in New York. He always hustled and was a great scorer and rebounder. Charlie represented the Globetrotters with dignity and class. He will be greatly missed!!!  
A Memorial service will be held on November 4, 2017 from 4:00 - 8:00 pm.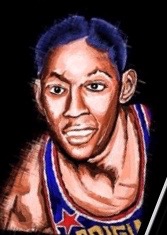 Charles Hoxie Memorial 
Our Children's Foundation 
527 W. 125th Street 
New York, NY 10027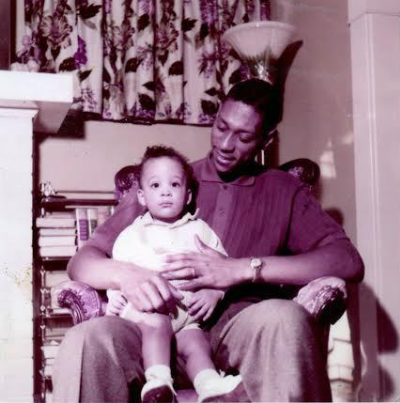 Charlie and his first son
Charlie was named the MVP among the Globetrotters for his play during the 1956 World Series of Basketball.
1950's Harlem Globetrotters Honored in Our Nation's Capital, Washington, DC!
Panelists (from left to right) Dr. John Howard, Pony Wilson, Bobby Hunter, Gator Rivers, Choo Smith, Carl Green, "Sweet Lou" Dunbar and Dave Nash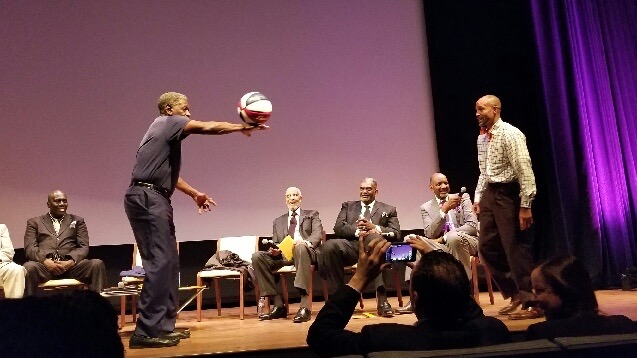 Gator Rivers and Choo Smith entertain the crowd
Click here to see the 1950's Harlem Globetrotter Program
Click here to see the 1950's Harlem Globetrotter Panel Discussion
Former Globetrotter Player and Owner, Mannie Jackson, Inducted into the Basketball Hall of Fame!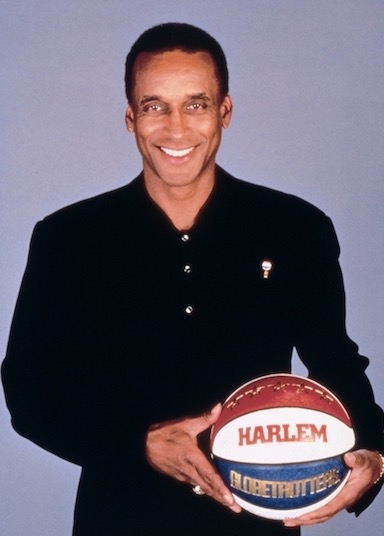 What an incredible life!!! He lived in a boxcar, played for the Globetrotters, conquered the corporate world, came back to the Globetrotters in 1993, to rescue them from bankruptcy and made them a success again. 
In 1957, Jackson went to the University of Illinois where he was one of the first African-Americans to start on the basketball team. In 1962, he played for the Globetrotters for two years. 
After the Trotters, Mannie started his business career, climbing the corporate ladder to become one of the country's most successful and respected business leaders. 
The ExGlobetrotters will be honoring Mannie in the summer of 2018 in Las Vegas, Nevada at the ExGlobetrotter Merchandising Conference. Stay tuned, details to follow in a future posting.
Congratulations Mannie!!! You're an inspiration!!! Very well deserved!!!
Mannie Jackson's Basketball Hall of Fame Speech
Mannie Jackson's Career Retrospective
Matthew " Showbiz" Jackson Co Authors Book, " Soul Bearer," About Overcoming His Obstacles
Interview with Matthew "Showbiz" Jackson on on WSAV Television
Current Globetrotters Handles Franklin and Big Easy Host the Mid-America Emmy Awards!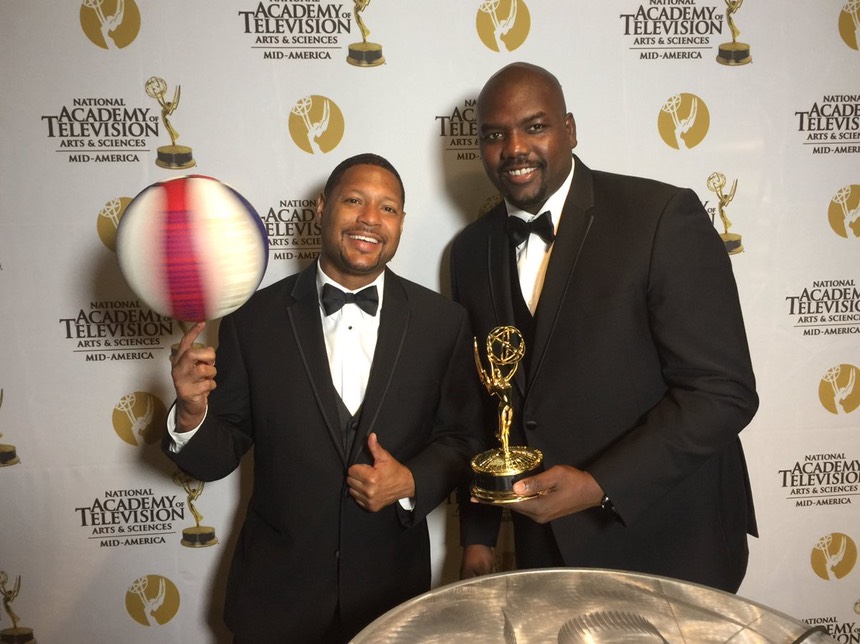 With Great Sadness, the Ex Globetrotters Announce the Passing of Eloise Saperstein Berkley
Eloise Saperstein Berkely passed away on Sunday, July 15th in Chicago, Illinois at the age of 81. She was layed to rest on Tuesday, July 17th. 
Unfortunately, many of the ExGlobetrotters were not able to attend the funeral service but were there in spirit. The Ex Globetrotters would like to thank CEO Howard Smith and Brett Meister for attending on their behalf.
Saperstein Berkley was the daughter of Harlem Globetrotters founder and owner Abe Saperstein but was a trail blazer in her own right. She was one of the first women to take an active role in running a professional sports team. After the death of her father in 1966, Eloise took over the team and helped make the Globetrotters a world renowned sports team. She was also the first female ever certified as an NBA player representative and the owner of the New York Sets of World Team Tennis.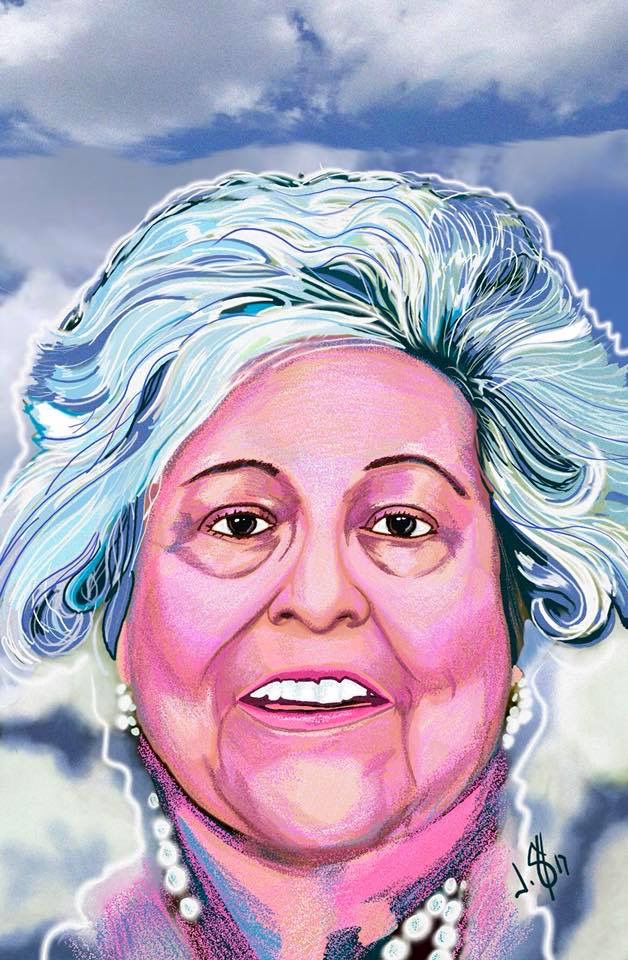 Eloise was a mentor to many of the Globetrotters. Her favorites were Meadowlark Lemon, Curly Neal and Leon Hilliard. Back in the early 1960's, Eloise helped a number of Globetrotters obtain McDonald's franchises. 
In keeping with the Globetrotters spirit, Eloise gave back to the community establishing a non-profit named after her father, the Abe Saperstein Foundation for advancing sports opportunities for Chicago youth. She organized basketball clinics and funded college scholarships. With the help of Wesley Frater, Eloise sent a number of young men to Europe to play basketball. 
Globetrotter legend, Bobby Hunter when he learned of Eloise's passing, "Honeyray's passing is like someone taking a page out of my life, all the stories and jokes that we had through all the years. I was always honest with her and she was always honest with me. An amazing woman who gave back to others. I am devastated. I loved her so much. I'll miss her so very dearly." In addition, Bobby recalled how grateful Eloise was to NBA legend, Charles Barkley who was so nice to her. Charles once went out of his way, to help Eloise to her hotel room and make sure she was safe.
Saperstein Berkley is survived by three children: Lonni Berkley; Avi Berkley(Susan Dominic); and Abra Berkley (Tony Ryba). She is also survived by five grandchildren: Brandon Berkley-Vigil (Dipa Patel); Abraham Berkley-Vigil (Xuan Li) Sylvia Ryba; Ely Ryba, Aaron Ryba and many members of her extended family and friends.
She will alway be in our hearts. May she rest in peace. 
NBRPA Annual Legends Summer Conference 2018
The NBRPA Annual Legends Summer Conference will be held from July 10th to July 12th at the Mandalay Bay Hotel in Las Vegas. 
Photo courtesy of cheaplasvegas.cc
Celebrity Golf Tournament
The 1st Annual Crawford Square Cafe Celbrity Golf Tournament will be held July 27th - 29th in Savannah, Georgia.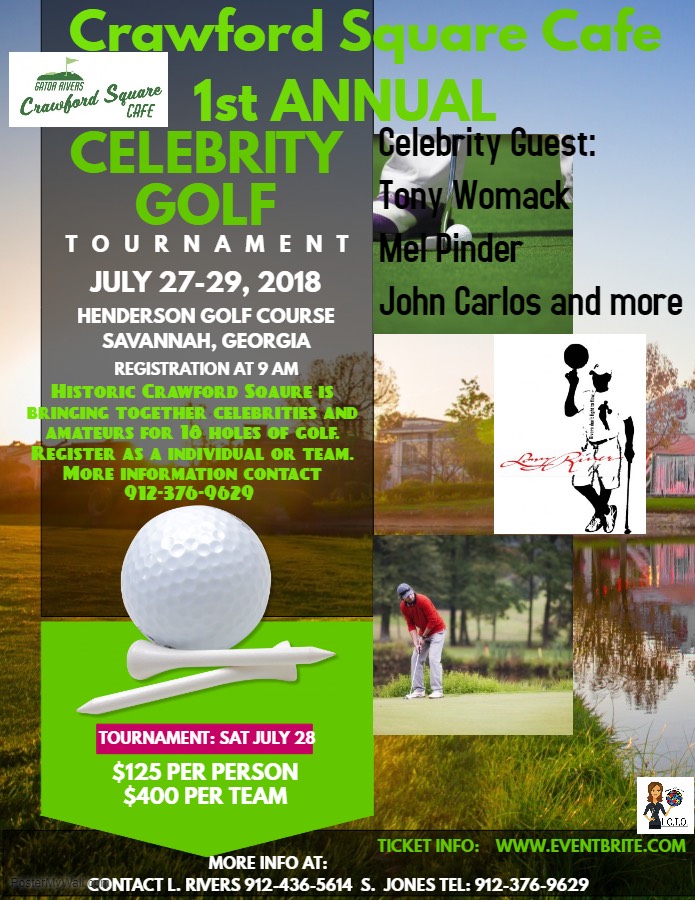 The Rucker 52 Greatest of All-Time to be Honored 
The Rucker 52 Greatest of All-Time will be honorede in Harlem on August 18th. There will be a special tribute to the late, great Connie Hawkins.
BiLlee T's New Song Honoring the Rucker 52 Greatest of All-Time
Globetrotter Reunion - October 5th - 7th
Where: Clearwater, FL - Fort Floyd Hotel
When: October 5th - 7th
Expecting: 40 Globetrotters
*Room and food will be taken care of for this magnificent weekend (40 rooms paid for and food for 100) 
Globetrotters from the 1940's and 1950's will have their transportation payed for
Tentative Agenda
Oldies but Goodies Night - 2 rock and roll groups from the past will perform
Tentative - Temptations, Four Tops
Bid Whist and Spades Tournament
Golf Tournament sponsored by Drug Free America
Basketball Clinic
NBA Globetrotter Foul Shooting Contest
Cancer and Drug Free Seminar
The Globee Awards 
Honoring Globetrotters who have done great things in the community (ex: Dave Nash - President's Health Library,
Dave Naves - NASA, Hollywood Brown - 10 Year Reading Program, Curly Boo Johnson - camp and educational program, 
Gator Rivers - Gatorball Academy, Choo Smith - Empowerment programs, Matt Jackson - educational programs for kids, new best selling book)
Honoring Tommy and Pat Long who run an educational program for kids 
Honoring the first woman on a Men's Professional Team - Lynette Woodard
Honoring Lou Dunbar - 41 years with the Globetrotters
Honoring Herschell Turner - one of the world's premier artists
Honoring the Oldest Living Globetrotter - Jumping Johnny Wilson
Honoring the Globetrotters from the 1940's and 1950's 
Hope Day - June 2, 2018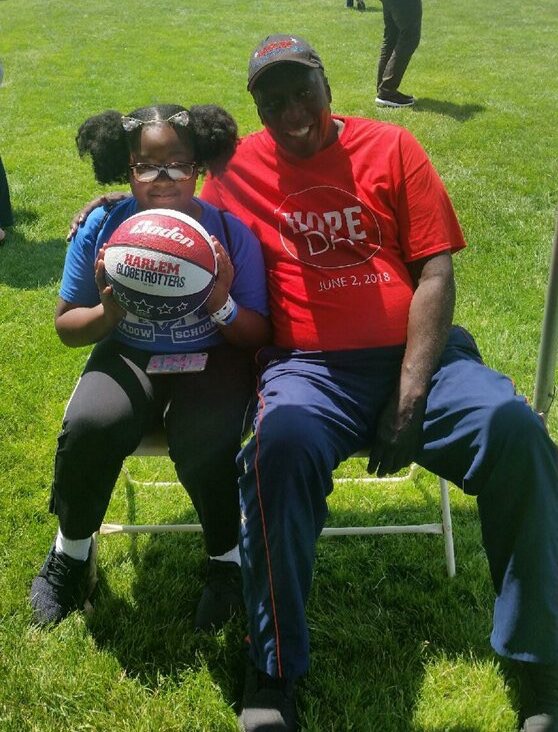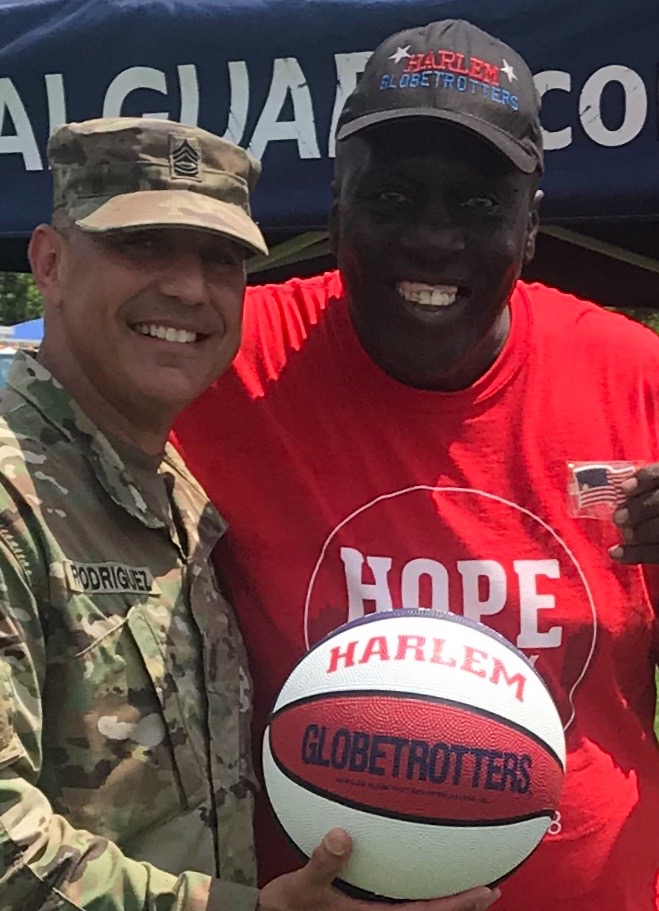 When we think of professional basketball players today we think of million dollar contracts, traveling on private planes and luxurious hotel accomodations. Professional basketball players were not always treated so well. Check out this article from the 1971 Harlem Globetrotter strike.
Flashback from the Past 

With Great Sadness, the Ex Globetrotters Announce the Passing of Jumping Johnny Wilson
Jumpin' Johnny Wilson, the oldest living Harlem Globetrotter, passed away January 11th at the age of 91. He grew up in Indiana where he was a star for Anderson High School's basketball team. He was nicknamed "Jumping Johnny because he was the only player on his high school team that was able to dunk the basketball. 
Johnny wanted to attend Indiana University but was not recruited because of the Big Ten's unspoken policy of not recruiting black players. He went on to star at Anderson University.  
Wilson played for the Globetrotters from 1949 to 1954. He was the drop-kicker for the team, standing center court and kicking the ball into the basket. He made that basket about 70 times of his 300-plus tries. Every time he made the shot, he got $100. He played on the Globetrotter team that played the Minnesota Lakers and starred in the movie Go Man Go.
After retiring from the Trotters, Johnny worked as a teacher and basketball coach. He will be greatly missed.
BiLlee T's New Song Honoring the Rucker 52 Greatest of All-Time
UN Day - June 7, 2018
Foundation for a Drug Free World